Coming to LVA
The laboratory of vibration and acoustics is located on the campus of la Doua in the North of Villeurbanne.
The complete address is:
Laboratoire Vibrations Acoustique 
Campus LyonTech La Doua - INSA Lyon
Bât. St Exupéry
25 bis, avenue Jean Capelle
69621 Villeurbanne, France
Mail : lva [at] insa-lyon.fr
Tél. : +33 (0)4 72 43 79 72
Fax : +33 (0)4 72 43 87 12
For an easier localisation: [Google Map / StreetView]
Campus map

Lyon public transports (TCL)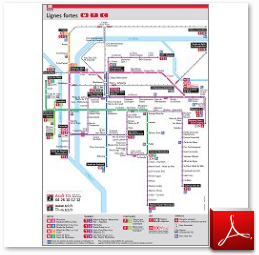 The Doua campus can be easyly reached thanks to the tram T1. The closest tram stop for the LVA is the "INSA - Einstein" one.
This Tram directly links INSA to the Part-Dieu station (TGV station). The "Tram Express"can be taken at the Part-Dieu station to rejoin the St Exupéry airport in 30 minutes http://www.rhonexpress.fr